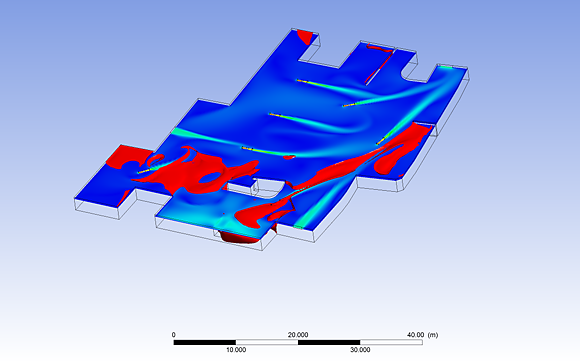 CFD simulation is an important development tool at DLK. With this method, the basic equations of fluid mechanics - the so-called Navier-Stokes equations - are calculated numerically. The visualisation of the results allows detailed statements about the flow behaviour.
CFD simulations are used at PollrichDLK in various fields, starting with the fluidic optimisation of individual fan components (blade geometry, guide vanes, casing, etc.), through advance calculations of aerodynamic characteristics to the analysis of the ventilation of entire parking garage systems. Furthermore, the use of CFD increases the flexibility of the solution concepts for non-standard project work enormously.
With the help of the simulation results, the flow-relevant components can be optimally adapted to the flow characteristics during the development phase, thus optimizing efficiency. In the area of new product development, the simulation of aerodynamic lines enables us to make statements about the fan's characteristics at an early stage of development, thus ensuring efficient development. By using CFD in the design of garage ventilation, we can guarantee the project-specific ideal arrangement of the jet fans as well as effective smoke extraction in the event of fire.
---
Manufacturer of heavy industrial fans with production and headquarters in Germany. Individual and tailor-made exhaust air solutions for industry.
The extensive know-how of the traditional company DLK Ventilatoren guarantees continuous innovation.
Contact
DLK Ventilatoren GmbH
Ziegeleistraße 18
74214 Schöntal-Berlichingen
Phone: +49 7943 9102 0
Fax: +49 7943 9102 10
Email:
info@dlk.com