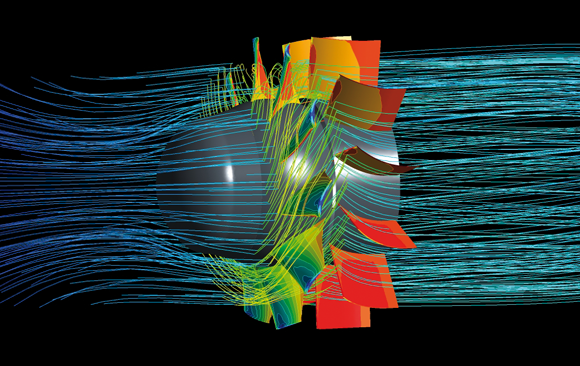 The R&D department of Pollrich DLK appeals by the combination of well-engineered measurement technology, an immense experience in any area of fan technology, as well as by the use of most recent development tools.
The responsibilities of the R&D department are – among others – the continuous development of our existing products, the expansion of our product portfolio by introducing new products, as well as the technical support for any custom designed unit deviating from the standard. Within the scheme of a development process the following stages have to be accomplished: After agreement about the development objective, an aerodynamically optimised geometry will be defined by using a CFD simulation.
The FEM analysis is another tool in the computer aided development permitting an optimal combination from various materials, light weight design and adequate strengths.
The measuring examination of all standard fans as well as the prototypes is performed in our companies own, to international standards conforming test stand. Our products are being analysed for aero dynamical, sound level and vibration characteristics.
Furthermore, if required necessary certifications are being subcontracted to licensed and officially recognised laboratories in order to guarantee our customers in all fields assurance.
Also, our Research & development department offers a complete layout of the ventilation process for car park projects. This service includes the determination of the optimal number of jet fans, their position as well as verification of the concept by a CFD simulation.
By maintaining research and development cooperation with universities and consulting engineers, we are continuously improving our know how and are monitoring the current scientific and engineering state of the art.
Manufacturer of heavy industrial fans with production and headquarters in Germany. Individual and tailor-made exhaust air solutions for industry.
The extensive know-how of the traditional company DLK Ventilatoren guarantees continuous innovation.
Contact
DLK Ventilatoren GmbH
Ziegeleistraße 18
74214 Schöntal-Berlichingen
Phone: +49 7943 9102 0
Fax: +49 7943 9102 10
Email:
info@dlk.com